Linkages: Drag-Link Mechanism
By Morgen Fleisig on Day 4, March 2010
I had considered posting about The Battle of Brooklyn again.  I finally signed up to Skype and made my first call through my laptop to São Paulo: it was like using the telephone for the first time.  Pretty amazing.
Anyway, I got over that and Julio and I spent over an hour working out the game mechanics for our Come Out and Play submission. Â Then I marched off through the Gowanus Canal to Stone House to take some pictures and do some research on the ground. Â We've got a little ways to go on that, though, so I think I'll hold off. Â Suffice it to say that there's not a lot left of the American Revolution in that section of Brooklyn. Â It goes back pretty much as far as the Civil War: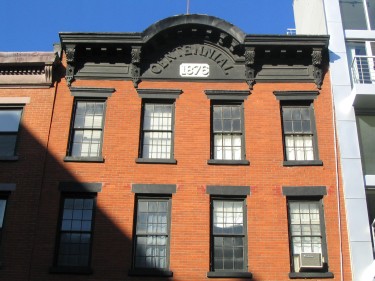 And Stone House was rebuilt during the WPA: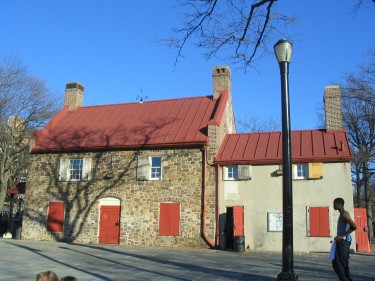 Anyway, I decided to work on linkages some more, and moved on to the Drag-Link Mechanism. Â As described by Marks' Mechanical Engineers' Handbook, it is a 4-bar linkage with the short side fixed, "used to feather the floats on paddle wheels."
I constructed it first by eye from the diagram and got this: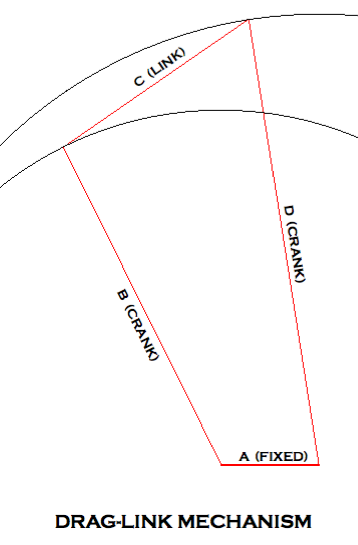 And animated it here: Drag-Link Mechanism (preliminary).
Unsure what earthly purpose that could have, I googled paddle wheel floats, and came up with Buchanan's Parallel Float Wheel: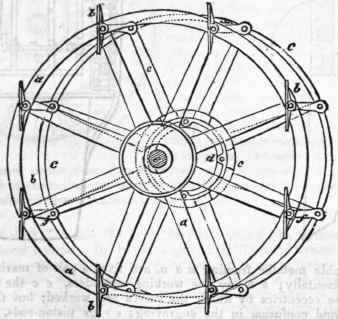 All clear, I redrew the mechanism to achieve a feathered paddle.  I imagine something like this could be used for all sorts of things, say keeping Ferris Wheel seats from pitching out their passengers.  Fascinating as well are the variations on this wheel that control the pitch of the paddle.  Feathering a paddle as you steer a canoe is practically an art, and it is remarkable that a mechanism had been developed to achieve this for a side-wheeler: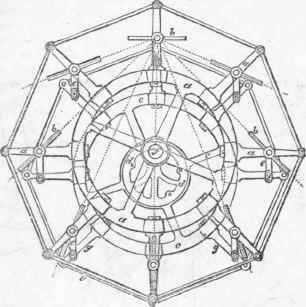 I'm very excited about this. Â Despite the fact that technology has moved on to the point of rendering much utterly obsolete, there is always something to learn from old inventions. Â Patent archaeology is invaluable even if it only helps to clarify a principle.
March 17th, 2010